Step into an ancient Chinese world of exceptional wealth where the Emperor is standing by to greet you and welcome you into his kingdom of prosperity!
This 25-payline, 5-reel slot machine is loaded with chances to win. Two progressive jackpots. A top payout of 50,000x your bet per line. A win-win feature guarantee that pays out even when your luck has run out. A special bonus round with up to 8x prize multiplies. With all this, this isn't just your lucky day. It's an endless streak of luck that you won't believe.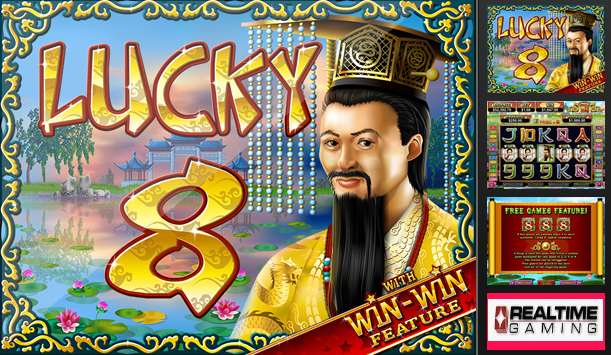 How to play:
Playing Lucky 8 is as easy as shaking one of those old magic 8 balls—only in this game good fortune is practically guaranteed. To get started, use the up and down arrows next to the Bet and Lines button to lower or raise your selections. You can play between 1 and 25 lines, and you can bet between $0.01 and $5 per line for a maximum bet of $125 per spin. To lock in your bet and play, just click the Spin button.
You'll get paid out for matching symbols, with some combinations paying out more than others. Click the Help button in the game to find out which symbols are worth the most. You'll also want to keep your eyes open for the Lucky 8 symbol. Hitting three of them sends you into free game mode.
The Gong sound is also your ticket to extra rewards. When it sounds, any prizes rewarded for this win will be multiplied—all the way up to 8x!
Strategy and Tips:
By nature, Lucky 8 is all about superstition. So this online slots game is the perfect opportunity to test out a betting strategy. While betting strategies have never been proven to work, some slots players swear by them. If you're new to betting strategies, we'll walk you through an easy one. When you win a spin, increase your bet. When you lose, lower it. You can do so by one credit each time to conserve your bankroll. If you find that this method is working, feel free to continue using it. Or read the Slots of Vegas blog and discover other betting strategies that might work for you.