| | |
| --- | --- |
| Midway Madness Slot | Rival Slots | Play Slots for free | |
Midway Madness Slot
Don't you wish you were young again? Nothing quite like being a kid at an Amusement Park. Throwing your hands up on all the twirling rides. Testing your luck on those suspiciously challenging sideshow games. Stuffing your face with all kinds of food and sweet treats! You can experience all the exciting aspects of the carnival midway (and being a kid again) in the comfort of your home with Midway Madness! This humorous i-slot has 3 casings, 3 bonus rounds, and 3 characters to help cheer you on! The different slots are separated by the themes of Rides, Games, and Food! Every casing includes J, Q, K, A icons and a Wild Clown.
The Carny will start your journey by guiding you through the thrills and chills of the many marvellous rides. Icons include ride Tickets, Tilt-A-Whirl, Ferris Wheel, Rocket Ship, Log Flume, a kid who is about to be sick, and of course the all time favourite Bumper Cars! The Bumper Cars Bonus Round will have you driving around trying to earn extra coins, and of course you can slam into your opponents.
Midway Madness Slot
After you tour the rides the Barker will show you the tricky sideshow games. Icons representing games include a Rubber Duck from the Duck Pond, Ring Toss, Basketball, a Shoot the Star card, a big stuffed Gorilla, a Fortune Teller and the classic midway arcade favourite Skee Ball. The Skee Ball Bonus Round gives you the chance to throw some balls down the ramp and score for more coins.
Surely you've worked up an appetite by now! The Vendor will fill your mouth with delicious delights. Icons include a soft Pretzel, Popcorn, a Drink, a Corn-dog, a Candy Apple, a slice of Pizza, and a Popsicle. The Popsicle will trigger the Ice Cream Bonus Round where the Vendor will toss multiple scoops of ice cream in the air and you have to catch them with your cone.
Be sure to try Midway Madness Slot ! This 3-in-1 carnival extravaganza is sure to delight everyone who is young at heart.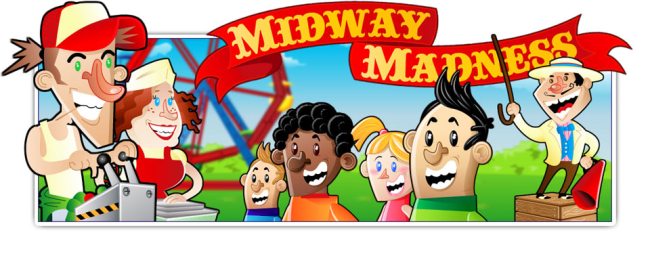 ---

Best Rival Casino SEPTEMBER 2023

Accepting Players

$1000 €

$8888 €

$4000 €

$1000 €

$1500 €

$3000 €
---
RIVAL Casino Best Bonus Offer of The Month SEPTEMBER 2023
Desert Nigths Casino No deposit bonus codes
Rival No Deposit Bonus Codes
20$ No deposit Bonus Codes
Bonus code: Click on our links
Rich Casino No deposit bonus codes
Rival No Deposit Bonus Codes
45$ No deposit Bonus Codes
Bonus code: Click on our links
Slots.Lv Casino No deposit bonus codes
Rival No Deposit Bonus Codes
22$ No deposit Bonus Codes
Bonus code: Click on our links
---
Play Free Demo RIVAL Slots Games
---
Latest News from RTGBonus.eu Blog - Latest News